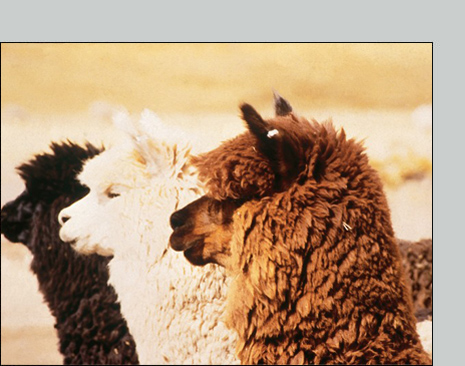 Some of the most recognised benefits of BABY ALPACA are:
100% natural fibre – sustainable, renewable, biodegradable and ethical
Hypoallergenic – lanolin free
Lightweight
Excellent thermal insulation- keepsyour body warm in the winter and cool in the sumer
luxurious feel, retains its appearance over time
Resistant fibre – no odours, no wrinkles
Flame resistant
Windproof
Solar radiation
Repels water
Warmer than goose down
Stronger than mohair
Lighter, warmer and stronger than wool
The Alpaca is a South American Camelid and is indigenous to the Peruvian highlands. The Alpaca produces a natural fibre often referred to as the 'fibre of the gods' by the Inca. Their fine and sumptuous hair is shorn annually to be made into delicate garments. There are an estimated 4 million Alpacas in South America. Approximately 95% live in central and southern regions of Peru BABY ALPACA has been hand-classified to a fineness of no more than 23 microns. This is a superior quality fibre which is soft, smooth and shiny. No other fibre keeps your body cool and warm at the same time.Alpaca has microscopic air pockets that keep you warm during the winter and allow you to stay cool in the summer. .
"While working for 9 years for a successful investment firm in London, I felt something was missing from my life. I embarked on a variety of courses in my free time from cookery school, creative writing courses and fashion buying, hoping something would fulfill me. They didn't. It was time for me to make a radical change. I made the bold decision to leave my lucrative city career and booked an around the world ticket to travel solo. Within the month, I left all the security, stability and comfort of my London life for the unknown with my 14kg backpack. I was finally losing my straight jacket and about to embark on what was to become a life changing journey. I soaked in the beauty of the world around Asia, Australia, New Zealand and South America. After months of soul searching and deliberating over my future career, a light bulb switched on, I wanted to design high quality fashion garments and work with the skilled artisans I was continuously drawn to in the countries I visited.
I fell in love with the locals, culture and crafts. My design visions became so strong that I continuously noted down every single thought, idea, inspiration that came to me and went back to the UK with pads of paper and knew I wa going to create my own collection. After a lot of research, my next hurdle was to get back to South America. I booked my ticket and travelled alone again to pursue my business venture. I conquered my fears, immersed myself on an intensive Spanish course (as I spoke no Spanish) and after months of hard work, I found the suppliers to work with and landed back in Heathrow with my first prototypes in hand. The process of designing through to end product has been tough but through my endurance and vision, I've produced a collection of luxury handcrafted Ruanas which I am proud of and hope you will agree are the investment piece for years to come. From Hedge Fund Girl to Fashion Designer, there was no going back! Life throws obstacles at us to test how strong our passion is to make a dream come true. I chose to follow my dream. February was the start of my new journey- the rest is history."
1. A poncholike garment, open in front, often worn as a wrap.
2. A poncho.
Arlette Lee has produced a collection of luxury Ruanas, an Andean style cape with her modern heritage twist. Arlette was inspired by the luxurious natural fibre of the Peruvian Andes, Baby Alpaca along with the traditional craftsmanship so set about producing her own exclusive collection.
All the Ruanas are hand-woven, beautifully light and soft and designed by Arlette to cater to the classic contemporary taste. Arlette's Ruana is the perfect investment piece for any wardrobe. This timeless collection will take you from day to night and through the seasons.
One of a Kind, Versatile, Luxurious, Lightweight, Investment piece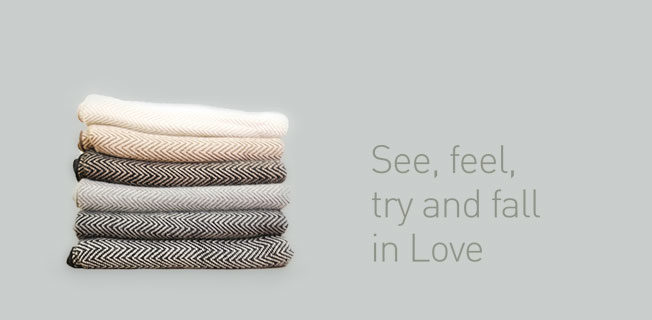 Arlette Lee is passionate about preserving the culture and traditional weaving techniques of the Andean artisans. Arlette's designs are an interpretation of traditional techniques and methods that have been passed down through many generations. Arlette Lee promotes fair trade and sustainability (working with Alpaca and artisans is ethical, environmentally friendly and socially responsible). Each Ruana design is limited in number and colour due to the handcrafting and hand-looming of each garment.
CARE OF ALPACA: Hand-woven Ruanas should be dry-cleaned as needed.
Ruanas are delicate garments – please be careful when wearing to not snag with jewellery or accessories.